In faltering economies, businesses often face tough choices, must make critical decisions. Typically among them is how to minimize the cost of marketing communications without jeopardizing the quality and effectiveness of those efforts.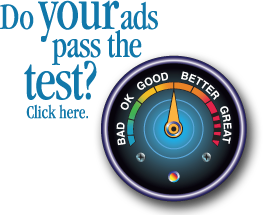 That's where Target Studios come in. Ads. Brochures. Logos. Web-site design. Marketing consultation. And more. We provide it all. We've done so for many years and one so—always—at less cost. The fact is, we've often been the "behind-the-scene" resource for agencies known for the quality of their work and, accordingly, for the high price of that work.
So. Why pay more than is necessary for the tools that help keep you going in tough times. Or, for that matter, even in the best of times. Call us. It's time to check our work. And check our prices.